Recreate Euphoria makeup looks at home.
Now that lockdown has given me so much time, I have been binge-watching movies, series, and documentaries all day. I love drama, and my life is full of it. So how could I miss out on Euphoria? If you knew me a little better, you would know exactly how much I love glitter and bling. While some may think it's OTT, I feel it's about personal style and how you carry yourself. So, let's not waste time and jump right into Euphoria makeup looks that you can recreate at home and practice till the lockdown is over. Then, step out in style!
Also, a big shoutout to Daniella Davy, the show's lead makeup artist, who has given us new fashion goals! I want the next Euphoria season out soon.
Add color with Julie's vibrance
Julie's colorful eyeshadow has been one of my favorite Euphoria makeup looks. While it seems complicated at first glance, it is effortless, and you will take not more than ten minutes. What's important to note are the colors she uses. Notably, they are blue, vermillion, purple, and gold. However, you must pick the right shades. Also, ensure that you do not forget some added shimmer. Adding a dash of white to this Euphoria look can work wonders!
Cassie's pop combination looks drop-dead gorgeous.
Have you ever reached a dead-end when you have tried all your styling hacks but still do not know how to add that oomph factor? Well, Cassie's Euphoria makeup pop combination is what you need. She shows you how to be confident with pop color lipstick and shimmer eyes. While she has opted for turquoise and orange, feel free to experiment with other combinations. A pro tip is to match your outfit or earrings with the eye makeup color. Those eyes look so romantic. I'm in love already! 
Maddy has brought back rhinestones.
Do you remember the 90s when the rhinestone fashion was a big thing? Yes, it's back with a bang. Maddy shows us how you can make any outfit glamorous. Be it a casual hangout plan with your friends or a dinner date with your newest Tinder match; Euphoria makeup looks have you covered. I do not particularly recommend changing the colors in this look because it is so iconic. However, if something else matches your outfit and skin tone better, then do not shy away. The key to getting it correct is to blend the colors correctly and transition smoothly.
Are you as daring as Kate to experiment with purple lips?
Purple lips have been quite controversial, and each time a Hollywood or Bollywood celebrity has tried it, the paps have gone into a frenzy. Kate's Euphoria makeup shows us how to tap into our adventurous souls and bring out what fashion truly means to us. Complete the look with purple lips and mauve or light pink eyeshadow. A water-proof and lightweight mascara can make your eyes more dramatic and beautiful.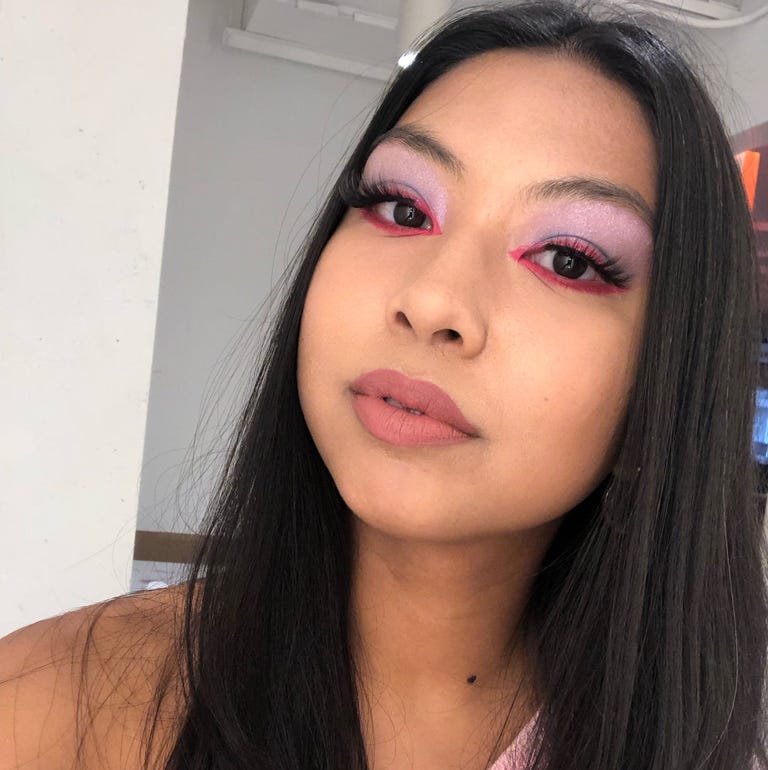 Jules' golden eyes will make you drool.
Jules' golden eyes look stunning on a night out plan. All you need is some light pastel shade eye shadow and golden glitter. While face glitter is the best choice, you can pick craft powder if you do not have anything else. First, put some vaseline on your eye corners and inner eyes. Then, dab glitter evenly, in any shape you want. Get as creative as you want!
To conclude, Euphoria's makeup looks are stunning and will keep you busy during this global pandemic. Bring out your vanity kits and start on your face's masterpiece!
Be their goals!
-EthnicWestern